HomeyLinen Christmas Gift Ideas for Linen Lovers
The greatest holiday of the year is fast approaching! Christmas will be here before you know it.
With all the hustle and bustle of December, now is the best time to plan your gift list. HomeyLinen is here to help you find linen christmas gift ideas.
With a wide array of stunning options, we offer something for everyone. So sit back, relax, and let us do all the work. We'll make your seasonal shopping a breeze!
HomeyLinen is Your Homespun Holiday Headquarters
In the 21st century, most people have a busy lifestyle. Getting out and about just isn't as easy as it once was. Shopping in brick-and-mortar stores has become more of a chore than an enjoyable outing. Don't be forced into this hurry-up mode! Why cram yourself into a building to settle for impersonal mass-produced merchandise? Your loved ones deserve something better.
HomeyLinen offers an exclusive line of cozy handcrafted textiles made with tender care. Learn about what goes into our products and why they're so special. Then you'll understand why our fine European linens will suit all your holiday needs.
Take it easy this year! You can find linen Christmas gift ideas here! Shop from the comfort of your home with only a few clicks of a button. With minimal effort, you can buy affordable gifts that will last a lifetime, all while avoiding the chaotic rush of the season.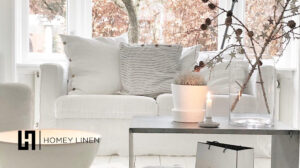 Why Choose Linen?
With its historical record and unique features, linen offers unparalleled quality. It's easy to see why it makes the perfect linen Christmas gift for anyone. With its staying power and natural benefits, this material is in a category that surpasses any other. 
Historical Significance
Boasting a rich history, linen is a timeless fabric made from the painstaking effort of weaving flax fiber. Evidence of primitive forms goes back tens of thousands of years. In ancient times, it was the textile of pharaohs who considered it sacred, and when tombs have been opened in our modern years, the linen remained intact!
Throughout the centuries, linen has been used in various forms. Light enough for a handkerchief or scarf, yet durable enough for a ship's sails or monetary currency, it's a material that endlessly proves its versatile worth.
Natural Properties
Rooted in nature, linen is one of the Earth's finest treasures. Known for its sustainability, aside from being eco-friendly, it provides a wealth of benefits:
Stain-resistant
Antibacterial and hypoallergenic
Lint-free and immune to pilling
Rapidly biodegradable if buried
Softness increases during its lifespan
Undesirable to many clothes-eating insects
Moisture-wicking and breathable
Temperature-regulating
Safe for just about anyone, linen products are an ideal holiday exchange item. Plus, these many favorable features make this comfortable textile the logical choice for effortless care. Give a beneficial gift that's easy to keep up with and never goes out of style!
The Best Linen Christmas Presents
HomeyLinen's product line consists of a variety of colors and patterns to match any decor or accessory. With a vast assortment of textile goods, the most challenging part of your Christmas shopping with us will be narrowing down your selection.
The newest addition to our linen family, our women's clothing is chic, versatile, and stylish. For the woman on the go in your life, any of these products will make her feel beautiful. These tops, dresses, and more will add a comfy flair of fun sophistication to her look at home, work, or play.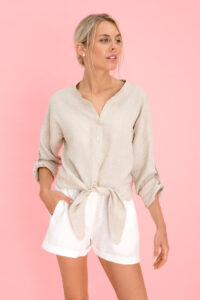 With such a wide selection, where should you start? How about an apron, some towels, or a collection of three bread bags for the top chef? Or go with a tablecloth, runner, and napkin set for a hostess friend. 
Linen is the preferred material for bed sheets due to its soft and luxurious balance. Throw in some pillowcases and a bedspread for a match made in heaven! Duvet covers and sets will also add a touch of royalty to any bedroom. 
Spice up the shower or bath with our uniquely textured gifts! Available in a range of convenient sizes, these moisture-absorbing linen bath sheets and towels will be right at home in this steamy room.
Coming in all shapes and sizes, HomeyLinen's range of curtain styles will fit anyone's taste. With ties, tabs, and pockets, plus headers and even macrame, you can't go wrong when selecting from these options.
Do you know someone who works hard? Give the gift of relaxation with a delightful heating pad. Or perhaps there's someone in your life who's at the height of fashion and would appreciate a light scarf? Linen bags are always a good idea, too. They're great as a present, or you can use them as a gift bag to hold another wonderful item!
A day at the beach is always a welcome and warm mid-winter dream. Inspire someone's much-needed vacation with these linen towels, bags, and scarves for a perfect summer look.
What Makes HomeyLinen Different
Not all linen is the same. A lot can go wrong, be overlooked, or ignored in the start-to-finish production process. From the fields to the loom and beyond, one misstep can ruin everything or cause a shoddy result in both the material and final product.
European Linen
HomeyLinen uses only 100% pure European linen, which is the finest around. With every purchase you make, you are guaranteed the highest quality of fabric handled by experts every step of the way. It's OEKO-TEX certified, meaning that it's free from harmful chemicals and any unnatural substances.
Handcrafted Pride
Everything in HomeyLinen's exceptional lineup is handmade with love. Thanks to precision stitching and craftsmanship, each item you purchase is one-of-a-kind. There's no better way to celebrate the spirit of the holiday season than with such an unequaled gift. Give that special someone something as unique as they are!
The Right Feel
Earth-friendly, HomeyLinen is dedicated to nature and sustainability. As core values, we take pride in quality and affordability. Though linen used to be fit for the decadence of a king, now everyone can enjoy it thanks to modern upgrades that still hold true to hands-on traditions.
Surprise someone you love this holiday season with a soft, smooth, and comfortable historic textile that fluently stands the test of time. Whether it's their first or fiftieth time experiencing linen, it's a gift they'll treas